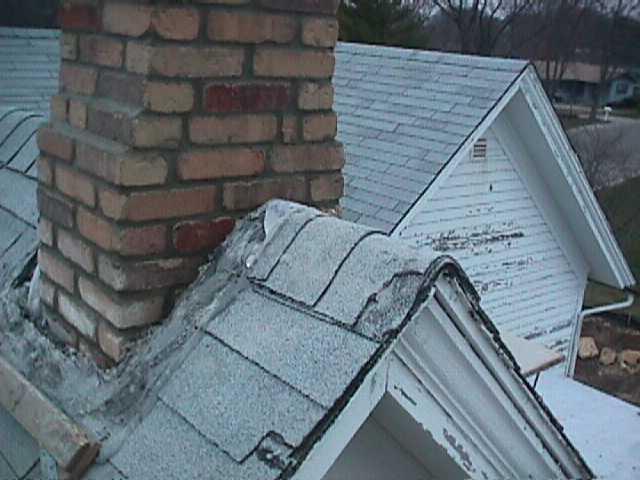 I don't expect to view our chimney from this angle again until Resurrection Day.

Adrenaline!!

Of course, simply seeing one more project completed (except for the metal flashing which the chimney builders placed around the base the next morning) would've been a rush.
The utilities
Sigh. "Would the plumber ever come?"
Boy, when he did arrive, pipes formed quickly! Within minutes more holes were appearing in the floors and walls, metal pipes were being discarded, toilets moved from room to room! A couple days later, and the plumbing was tested, inspected and nearly complete. In planning laundry and sink locations, Brian and I thoroughly considered where the drains might run. We didn't fully comprehend that with all the required vents, there's as much plumbing going up into the attic as down into the earth! Most of the vents are hidden in walls.
Below, plumber Ron installs a brace for the new shower pipes (right).

At left, an L-shaped opening cut into the bedroom wall reveals where the bathroom plumbing vents run.

Below is the wash machine drain and vent.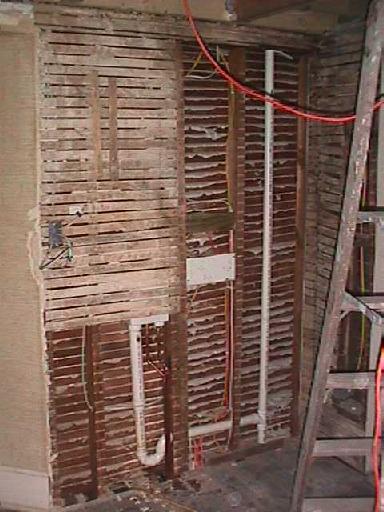 ---
Meanwhile, outside, the melting snow and almost thawed ground remind us it'll soon be time to return to exterior work. I can't wait to see the "after" photograph of this scene...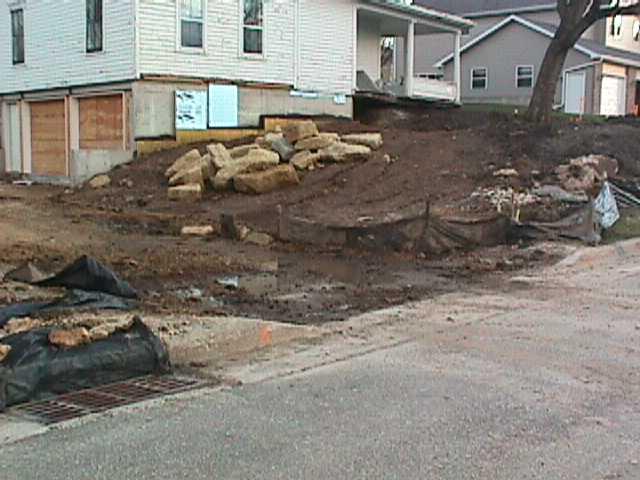 ---
page 1
page 2
page 3
page 4
page 5
page 6
page 7
page 8
page 9
page 10
page 11
page 12
page 13
page 14
page 15
page 16
page 17
page 18
page 19
page 20
page 22