The date of the move
Will it ever come?
In addition to all the building contractors, over the summer we've also contacted the electric company, telephone company, and cable company to move wires, the water utility to move a hydrant off a tight corner for one day, the neighbors along the route about street parking and trimming of some branches over the street, the village arborist for trimming trees on public right-of-way, the police about posting no-parking signs and detouring traffic, and an electrician supervisor at the Department of Transportation (DOT) to turn two stoplights aside which hang on mast arms over the roadway.

Because Main Street is also a state highway, the moving company applied to the state DOT for a permit to move the home. The DOT gave us a two-week window, Sept. 23-Oct. 4— but only Monday through Thursday during the hours of 2 a.m. to 5 a.m.

However, this permit came with a surprise. The State Patrol randomly checks house movers before they drive on the highways, and our house was going to be one of those random checks! That was good news because one more pair of eyes would inspect the safety of the home, but it also meant we must be more patient while the movers scheduled with yet one more department.

The movers hooked up the truck and poked into the walls all the required safety reflectors, amber lights, turn signals (True! Even on a house which will travel perhaps 1 mile per hour, in town, with no possibility to pass!). At last the State Patrol inspected Thursday morning, Oct. 2. Alas, the inspector grounded the cab on a technicality. The movers quickly remedied it, but also had to request a time extension of the DOT permit to move on a state highway.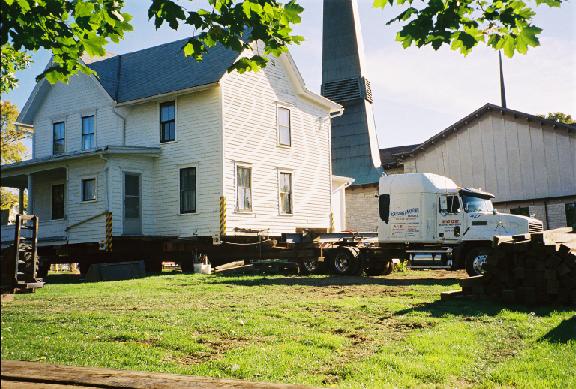 And so, the raised house participates in yet another weekend village celebration, the Oct. 4-5, 2003 "Fall Festival."

Then the decree:
Thursday, Oct. 9, 2003, 2 a.m.!
Friday morning the movers faxed to us and others involved in the move the confirmed move date: next Thursday, Oct. 9. So Wednesday afternoon we followed up the police's leafletting of cars parked along the route Tuesday by posting signs, in some cases, amid the past weekend's fall festival decorations.

Meanwhile, the telephone company removed a guy wire, the electric company reviewed its wires crossing the street, the Dept. of Transportation removed the stoplights sticking out over Main Street on metal mast arms, and the cable company prepared to move its lines. (Note the loose wiring in the photo at right.)
page 1
page 2
page 3
page 4
page 5
page 6
page 7
page 8
page 10