Winter really sets in ...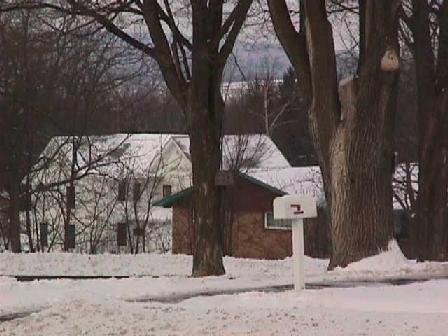 From the parking lot of the former A&W Restaurant, now appropriately named Mounds View Restaurant, through bare winter branches you can see southern Wisconsin's highest point, the Blue Mounds (elev. 1,761 feet). Understand, mountain-dwelling sister and brother-in-law, that, though oddly spared from glaciers that covered the rest of Wisconsin and surrounding states, allowing time for rivers to cut some deep ravines, southwest Wisconsin was largely rolling prairie. So, "mounds" rising hundreds of feet above the surroundings draw attention for many miles. Except not from any of our windows, being in a ravine.
The Hochunk (Winnebago) and earlier inhabitants visited the Blue Mounds ceremonially, Englishman Jonathan Carver explored them Oct. 10, 1763, miners during the lead rush in the 1820s eventually settled them decades before European-Americans settled the rest of the Wisconsin Territory. The now small Village of Blue Mounds is decades older than Mt. Horeb, which wasn't settled until the 1850s & '60s. However, the Military Road, a stagecoach route built between 1832 and 1837 at the expense of the U.S. government to move troops between Lake Michigan (Green Bay) and the Mississippi River (Prairie du Chien), went through or within yards north of our back yard.
---

Indoor work at well-below freezing temperatures
| | | |
| --- | --- | --- |
| | | |
| Clad in heavy flannel shirt, respirator, and his father's blaze orange hunting cap, Brian scrapes paint from a door frame. | Sporting the finest in Wisconsin winter indoor wear (before heating's installed, that is), Geoffrey helped carve many holes in thick plaster and wood walls for electrical work. The top opening was my first attempt; the more precise bottom opening is his. | See, it's really him, emerging from behind goggles. |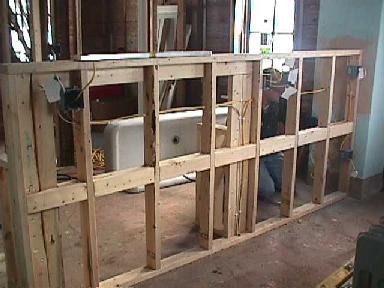 With a large kitchen's walls mostly consisting of doors and windows, we decided to build an island in the middle of the room, off the chimney, for the sink and stove.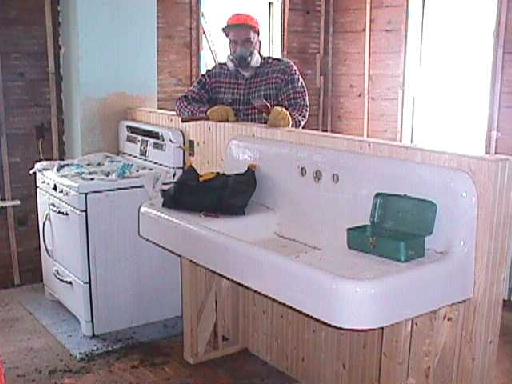 Brian stands behind the half-wall which supports the white gas range and five-foot wide sink with double drainboards. Both appliances came with the house; the circa-1945 stove was hardly used as Adene still had a woodstove to cook with. The sink was formerly in a side room off the kitchen which we'll convert to a main-floor bathroom.
| | |
| --- | --- |
| Carpenter Kirk. | Weekend electrician's helper. |
| | |
| --- | --- |
| | Through a frosted camera lens and some dust from cellulose insulation, the frame for a central walk-way is visible in the attic. We intend to bury the ceiling joists up to a foot in new insulation, so carpenter Kurt humored me by designing and framing these unique, suspended "Ken-ways" throughout the attics. |
| | A couple roofs remain even after a second roof covers them. Boards this size—some up to two feet wide—remain on several roofs now covered over. This particular roof shows no signs of ever having shingles or tin nailed to it, leading us to speculate about it structural purpose since the second roof was likely added to the house almost immediately. |
---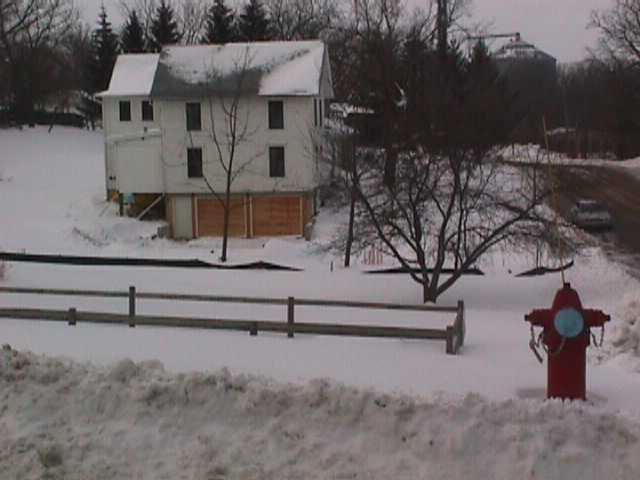 No garage doors yet, but having the framing around the openings helps show how it may eventually look.
---
page 1
page 2
page 3
page 4
page 5
page 6
page 7
page 8
page 9
page 10
page 11
page 12
page 13
page 14
page 15
page 16
page 17
page 18
page 20